Safety Information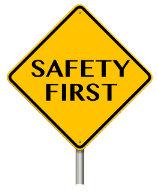 Using dry ice requires best practices when it comes to safety. We have identified risk assessments for our products. Provided safety guidelines and also FAQ's when it comes to knowledge and safety.
If you would like to receive your copy of our Material Data Safety Hazard Sheet please either email info@chillistick.com or contact us on 020 3432 9412. We will be happy to send over the documentation you require. There is no charge for this service.
If you have any safety concerns, or wish to talk to us about working practices or in-house training which we offer here at our premises free of charge - please don't hesitate to get in touch.