Northern Restaurant & Bar Exhibition 2017 - 21st-22nd March 2017
The Northern Restaurant & Bar Show (NRB) is the largest Northern hospitality trade exhibition in the UK. The show brings together 300 exhibitors, 65 live demos and over 7,500 trade only visitors. The exhibition is only open to those actively involved in the hospitality sector and it is important to Chillistick to be a part of the exhibition and provide an opportunity of demonstrating how Chillistick's range of products can be of benefit to your business. Chillistick are experts in the safe use of dry ice to provide drama and fun for the presentation of food and drink. This year as exhibitors, Chillistick will showcase an array of innovative products designed and manufactured in-house. There will be live demonstrations, information and advice on the benefits of using dry ice for your business. In addition, visitors will also see the unveiling of a brand new ingenious product – The FogJug.
Showcasing the Following Products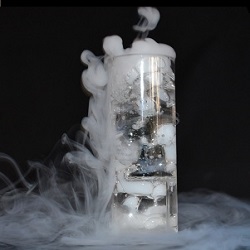 Chillisticks
Ice Cage
Ice Breaker Shotglass
Ice Pour Container
Chillipop
Cloud Pour
The Unveiling of Our Brand New Product

The FogJug
Advice and Demo's of how dry ice can be used for:
Food
Buffet Presentation
Food Trays
Drink
Cocktails
Cocktails to share
Bottle serve
Bar effects
Drink trays
Table Serve
Entertainment
Dance floor
Themed parties
Centre pieces
Displays
Fog jug
Stand Information
Entry to the exhibition is free – come and visit us on stand F70.
Exhibition Date
Tuesday 21st March to Wednesday 22nd March 10am-5pm
Location
Manchester Central Convention Complex, Petersfield, Manchester, M2 3GX
Ticket Information
Northern Restaurant & Bar show is a hospitality trade exhibition open to those actively working in the hospitality trade. You can register for your ticket at: NRB Registration