Dry Ice - Not Just For Fog Machines
Planning a specific event is like running your own business. That's why if you are looking at a corporate activity, using an events management company is often the simplest way of letting the experts handle it for you. However, your event is only as good as your knowledge base of what's available. Certainly, the advice of any event company is key and their knowledge and experience of what they have managed in the past. Sometimes though, if you don't know what's available how can you know what can work for you?
We see a lot of events companies buying dry ice if and when the customer requests it. In a lot of instances like this it is used for large fog effects like the X factor stage - flooding a large area of space with a dry ice fog effect. This uses an excessive amount of dry ice and necessitates in the hire or purchase of a fog machine. Depending on budget this in itself can make the whole package seem quite costly.
Dry ice and its applications needs to be fully understood by individuals and companies for private and corporate events. Dry ice has something much more to offer and extremely good value for money when you consider how it can be utilised throughout your event for many different areas. It's all about the know how.
Did you know for instance how dry ice can be used for champagne towers, molecular mixology, masterclasses, recipe design, branding - how cost effective it can be for private and corporate events?
Dry ice has played a key role over the years in molecular mixology; the visual and sensual aspects of how dry ice can be introduced into cocktails. This has led to cocktail enthusiasts and bartender's attending masterclasses to find out how it works, what can be achieved. Recipe design is not just about drinks - dry ice has been used more and more in food and for food presentation - we supply to several high profile Michelin star chefs and past and present masterchefs! We also know about branding - the launch of ChilliStick was first introduced through a Smirnoff campaign - since then over 1million ChilliSticks have been sold to date.
Everyone relishes new ideas to make their occasion that extra bit more special and inventive. In our experience, it is often useful to provide as much information on how dry ice can be effective and the different ways it can be used - not just for fog machines.
Chillistick has created a simple fact sheet with key points including our products and services to help your clients understand what can be achieved and how dry ice can be used throughout the year with exciting opportunities and ideas. Take a look at our useful tips and see how dry ice could benefit your next event.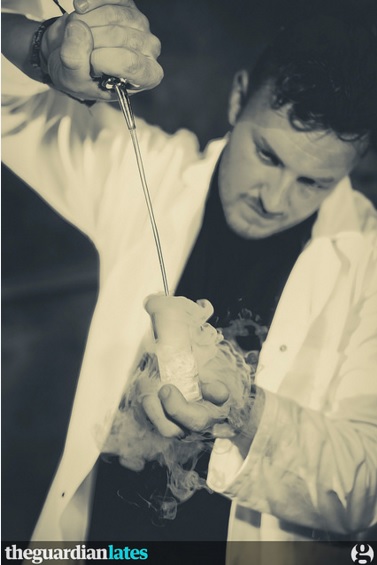 If you have a special event or occasion and would like to know more, please do not hesitate to contact us - we are more than happy to help with ideas and costs. Whatever the event big or small and whatever the budget we are sure we can help from drinks on arrival to food presentation. From aroma senses to visual concepts - dry ice definitely has a part to play.