Easter Cocktails to get you Egg-cited this Easter 2019!
Easter egg - What Does It Mean?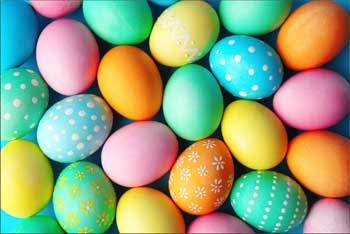 Easter egg has both a literal meaning and a figurative meaning.
The term Easter egg first came into use around 1825, before this time they were called pace eggs. The term Easter egg referred to an edible egg, from a chicken, boiled and then dyed or decorated in some fashion before it is hidden for children to hunt. (Traditionally Easter eggs were painted with birds in the hope they became fertilised). This has now evolved to incorporate a candy or chocolate egg.
A more recent meaning of the term Easter egg is a hidden feature in a video game or other media, such as a joke, message or gameplay. This use of the term Easter egg first appeared in 1979, in reference to an Atari game called Adventure, programmed by Warren Robinett. Robinett had a dispute with his supervisor over crediting programmers with their work in the game's credits. He programmed the game so that when the player moved his avatar over a certain pixel, the message "Created by Warren Robinett" popped up. When this was discovered by a consumer, the director of software development argued to leave the message in the game and even encouraged programmers to put other such surprises in their games for consumers to find, like Easter eggs on an Easter egg hunt.
Chillistick's Egg-citing Easter Ideas, Fun Dry Ice Cocktail Recipes To Try
Check out the Easter egg hunts and Easter egg decorating and ponder with a cocktail or mocktail with the following dry ice ideas and fun Easter facts:-
You could really make your Easter egg hunt even more magical by using dry ice to hide your Easter eggs under a blanket of fog or have some mysterious fogging eggs dotted around to give hints as to where the Easter Bunny could have hidden some more eggs!
Top 5 Easter 2019 Cocktails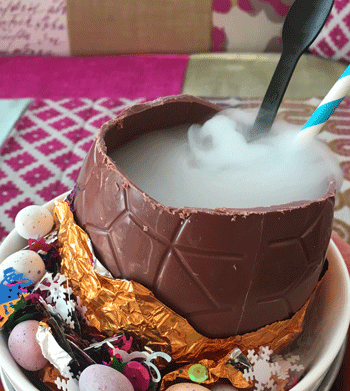 We thought here at Chillistick HQ we would try our very own take on Aster's London's Egg- cellent cocktail from The Independents Top 5 must have Easter Cocktails list! (we used our Chillistick to create this brilliant fogging effect in our Egg, this allowed for our dry ice Easter cocktail to be consumed safely as the Chillistick's one-way valve encapsulates the dry ice pellet and ensures that it cannot escape)!
Easter Cocktail Most Popular Ingredients
The most popular cocktail ingredients we found this Easter 2019 are:
Vanilla vodka
Salted caramel vodka
Godiva chocolate liquor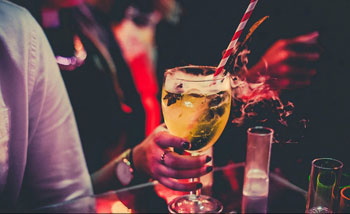 For more exciting flavours such a popcornand chocolate chip cookies you should check out MONIN's syrup range, they have flavours available to suit any cocktail or mocktail! We used vanilla vodka in our Easter cocktail, the dry ice drew out the essence of the vanilla in the cocktail so you could not only taste the vanilla but you could smell it too! This would be the case with any flavoured liquors or spirits you choose to use for your cocktail, so get creative with those flavour and add the dry ice to enhance your cocktail experience!
If you are not partial to the sickly-sweet chocolate Easter egg themed cocktails and you are on the hunt for a more sophisticated cocktail with an egg-xtream twist then look no further than Waitrose Cookery School's Easter alterative creations! With as little as only 5 ingredients and 5 minutes needed to make this cocktail (below) you really have no egg-xcuse (ok that's the last egg pun!) ….check out how to whip up this exotic egg style cocktail!
For even more Easter inspiration such as Easter displays, table centre pieces ideas (like our fogging Easter bunny!) and much more check out our Easter and Spring Ideas Pinterest board. From everyone here at Chillistick we hope you all have an egg-xceptional Easter this 2019 (ok… that really was the last egg pun!!)