Hospitality
Everyone enjoys a party celebration and special occasion such as a wedding, children's party or corporate event for your clients. Food plays an integral part for your guests to enjoy and remember. Using dry ice to create fog effects in the presentation of food has never been more popular. The picture below is using dry ice with a food essence to enhance the aroma of the food while visually stimulating the senses.
To create this effect we recommend our
2.5kg pack
of dry ice and our ice cage product. By filling the
ice cage
with dry ice and submerging in water you can create the effect shown in the above picture. Adding a food essence to the water creates an amazing aroma.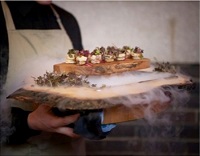 Dry Ice Cocktails
Mixologists around the world, bars, clubs and venues are increasingly creating new and vibrant cocktail recipes. This is also true for those people organising special occasions and parties at home.
Chillistick have helped revolutionise cocktails by manufacturing a unique cocktail stirrer called the Chillistick which uses dry ice to create the perfect smoking drink. The cocktail stirrer has a patented safety valve, which safely holds the dry ice in place. It is completely reusable and is dishwasher safe. Now you can enjoy something that not only tastes good, but also looks amazing!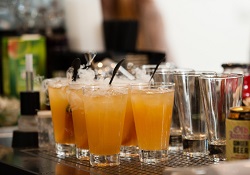 In recognition of how the cocktail stirrer is used, Chillistick have worked extremely closely with mixologists from Diageo and The Mixology Group to create easy cocktails from Chillistick's very own Cocktail Recipes.
Almost half a million units sold since its launch in 2011, from South Africa and Australia to UK festivals and small home parties - a unique product for everyone who enjoys cocktails.
To find out more information please click the Cocktail Stirrer link or call us on 0203 4329412 for any further questions or requirements you may have.
Champagne Serve
Champagne is an indulgence often associated with celebratory moments or opulent occasions. Serving champagne is an art form, starting with choosing the champagne through to pouring it and pairing it with food. With this in mind Chillistick have developed a product called The Chillipop which creates amazing smoke effects using dry ice safely in ice buckets. This is a unique way to enhance any bottle serve and will create an immediate effect at VIP areas, special events, parties, special occasions and celebrations. Please see the Chillipop Ice Bucket instructions on how the system works.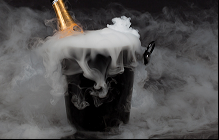 Chillistick Service
Working with professional venues we can offer free safety guidance, hazard assessment dry ice training. Please contact us on 0203 4329412 for any further questions or to discuss your requirements.
If you would like further details on dry ice, please click the Dry Ice FAQs link for more information.