Christmas and New Year is all about celebrating. We have developed several amazing cocktail ideas with renowned mixologists to bring you some new and exciting drink ideas. These cocktail recipes are a must for any party and work really well with dry ice to create something new and exciting this year. If you had a Halloween event why not treat yourself to some dry ice and make use of your Chillisticks again. These are perfect to use with Mulled wine as it is warm and also tastes great too! Please browse our delicious Christmas Cocktails for cocktail and punch ideas.
Party Packs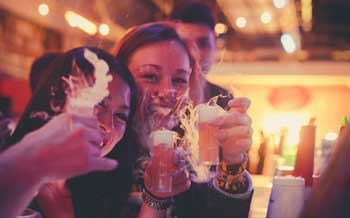 We have 2 great party packs for both Adults and Children. Everything needed to enhance events for grown ups - individual smoking cocktails and smoking shot glass drinks and truly amazing ground hugging fog effects - just add water! Typical cost is £2.50/person based on 20 guests. For larger parties the stirrers can be washed and re-used multiple times per night as is the practice at venues.
Children love the look of fog! With adult supervision these packs are suitable for children over 6 years old. The pack includes a Fog Jug which will create a cloud flavoured with the chosen drink - this makes low sugar cordials much more interesting than sugar-filled sodas. The safe fog effects using our Fog Maker are a winner. Typical cost is £2.50/child per party. However, these party packs are not just for drinks - dry ice can be used throughout the party for cool fog effects, themed parties – Harry Potter and Frozen or cool science parties. Kids love the big fog effect - simple to create but extremely effective.
Romance this Christmas - say it with dry ice....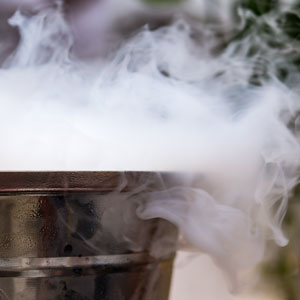 We have romance all wrapped up. A bottle of something special served to the table in a smoking champagne bucket - all eyes on you as the fog effect creates the romantic mood as you tell your loved one how special they are...
If romance is not your thing... celebrate the New Year with a dazzling bottle of champagne served on a bed of dry iceThese are perfect to use with Mulled wine as it is warm and it also tastes great too! For New year why not have a chilled bottled of Champagne using our Ice Bucket Kit.
Created by specialist mixologists to use with ChilliSticks and dry ice. Phone us on 0203 4329412 if you need further information.
We offer a wide range of fog pack sizes to suit your requirements - the most popular party pack sizes are the 2.5kg, 10kg and 15kg packs. If you want to browse the different size packs which start from £27.60 please view the fog packs. Price includes thermal container, gloves, handling instructions and free delivery.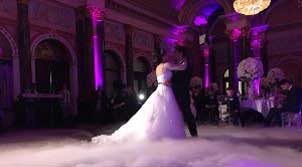 Christmas Wedding
Dry ice is perfect for cocktails on arrival, champagne towers, table presentations, first dance and wedding cake. No one has more information and advice than Chillistick on how to plan and use dry ice to wow your guests. Whatever the size or budget of your wedding we can help you. Please call 020 3432 9412 or email info@chillistick.com to discuss your wedding requirements.
Dry Ice Special FX - Panto Season!
Dry ice special FX are a must have for any production big or small - whether a school production, amateur dramatic show or full scale large panto - dry ice plays it's own part! We have a wealth of experience on how to create floor effects, utilising fog effects with props, dance routines, fairy godmother's or evil witches. Where there's smoke there's.... dry ice!
Please do give us a call we can help offer advise on props, usage, storage and delivery options. Call 020 3432 9412 or email info@chillisick.com.
Please take a look at our Christmas Deliveries. If you are looking for a Monday delivery you need to order a minimum 10kg dry ice pack (this will give you around 4-6kg on Monday. If you are looking for a Saturday delivery - opt for the enhanced delivery where we pack more ice and have the ice delivered on Friday - this is the most cost effective way of ordering rather than paying for the £10 Saturday delivery.
Christmas Use - Opt for a 10kg/15kg pack delivered on Friday to give you 4-6kkg/6-8kg for Christmas.