Children's Birthday Pack - Fun Activities For Children Of all Ages
Chillistick has developed 6 amazing activities that will entertain, be fun and help create special memories for children of all ages. Brain busting puzzling questions, food for the eyes and there's even a Volcanic surprise in there too!
Children are still having birthdays whilst at home and this pack offers the opportunity of celebrating everything that's fun - there's even a recipe idea for a Volcano cake!
If you're not looking for a birthday - don't worry. This pack can be used for any at home activity and if you want to make it educational - you can do that too - we have a quiz activity sheet for those boffins out there!
The pack is perfect for
Kids at home
Birthdays
Parties
Celebrations
Simple To use
These activities are very easy to follow. We have made it simple to use and great fun so that parents don't need to worry too much about how things will work.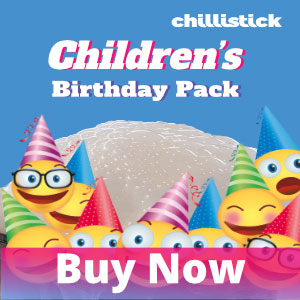 Check Out The Birthday Pack In Action
Check out George who has tried to help you with these handy videos on "How To" - any questions - please feel free to contact us.